Podcast: Play in new window | Download (Duration: 24:27 — 17.1MB) | Embed
Subscribe: Google Podcasts | Email | RSS
In this episode of AMP Up Your Digital Marketing, Glenn Gaudet speaks with Karin Aviles, Head of Demand Generation and Field Marketing at Centrica Business Solutions, which offers sustainable energy alternatives for businesses. Karin discusses how her team's lead generation strategies have shifted during COVID-19. You'll learn:
Lead generation without face-to-face events forces companies to explore new ways to reach their target audience.
With tighter budgets, marketing teams should look for ways to optimize their ROI through paid media channels.
People's behaviors have drastically changed over the past few months, so it's important to keep tabs on these trends and follow your customer.
Face-to-face interactions are traditionally an integral part of lead generation. A handshake, an elevator pitch, a conversation, an exchange of business cards.
But in the wake of COVID-19, marketing teams no longer have this advantage.
In January, if you'd asked Aviles to list her top lead-gen strategies for the year, she would've rattled off an impressive list of in-person events and trade shows.
But in March of 2020, that all changed. As we know all too well, the world shut down, and events were canceled. Karin's marketing strategy was essentially torpedoed.
"We've had to shift our marketing strategy quite a bit," Karin says. "It definitely wasn't something we did overnight per se, but we have had to move pretty quickly to make some changes."
So what exactly changed? And what does the future of lead generation look like? Karin joined the AMP Up Your Digital Marketing podcast to discuss how her marketing team has shifted in the wake of COVID-19.
Lead Generation and COVID-19: Pivoting Your Marketing Strategy
What happens when a large portion of your marketing strategy disintegrates? Karin, like many marketers, has been forced to pivot. And she doesn't suspect this will be a short-term pivot, either. 
"I think what has happened and transpired through COVID is going to change everything about how we work going forward," she says. "So I don't think we come out of COVID, and everything goes back to the way it used to be."
In light of COVID-19, here are a few steps Karin and her team have taken to preserve lead generation without face-to-face events.
1. Host Events Digitally
As soon as events began getting canceled in March, Karin quickly started thinking about how to host them digitally. Whereas she'd initially planned to host approximately one webinar a quarter, she decided to amp that up. Now, her team has been doing about five each quarter.
"It's really just taking those dollars we had planned on investing in something face-to-face and bringing it online," she says.
She's been pleasantly surprised with how engaged virtual attendees have been — probably because they're at home and don't have as many distractions in their lives. They're asking questions and sticking around until the end of the sessions.
And because Centrica already uses the online events platform Webex, making the move to this digital format hasn't cost them anything extra.
2. Optimize Your Paid Traffic Channels
During this time, Karin has been safe-guarding her budget, so she's really focused on optimizing her digital ad spend.
For instance, instead of funneling money into banner ads, Karin has decided to lean on cost-per-lead programs with publications.
Sure, banner ads can be great when you want to drive traffic to your website, but actually getting people to convert can be difficult. The cost-per-lead programs, however, guarantee a specific number of new leads — and even target your ideal demographic.
She also made the call to turn off paid social traffic (though, despite lower engagement levels, she's seen bounce rates plummet) and to leave paid search ads on.
Karin's best advice to figuring out your digital ad strategy during this time? Calculate your ROI.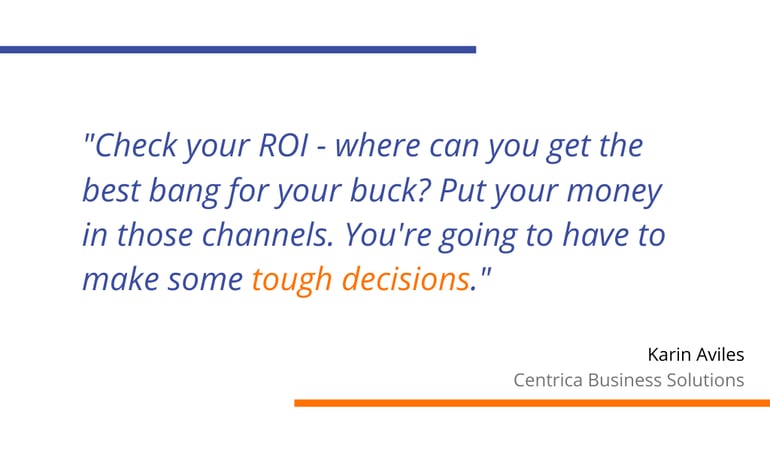 "Check your ROI — where can you get the best bang for your buck," she says. "Put your money in those channels. You're going to have to make some tough decisions. But that's just where we're at — control what you can control."
3. Upskill Your Sales Team
Because the Centrica Business Solutions sales team hasn't been out making deals face-to-face, Karin has used this time to upskill the team.
"Now, more than ever, we need modern sellers," she says. "And we need to make sure they have these skills to go out and socially sell when they can't be out face-to-face, which is what they're usually used to."
Karin hosts training sessions for the sales team to teach them more about social selling and ways to reach their target market when everyone is operating behind a computer.
Thinking about adopting a social selling strategy? Employee advocacy can help with that.
4. Follow Your Customers
The way people live and work have drastically changed these past several months, and everyone seems to be spending more time online — including C-level executives. That's great news, especially if you're in B2B.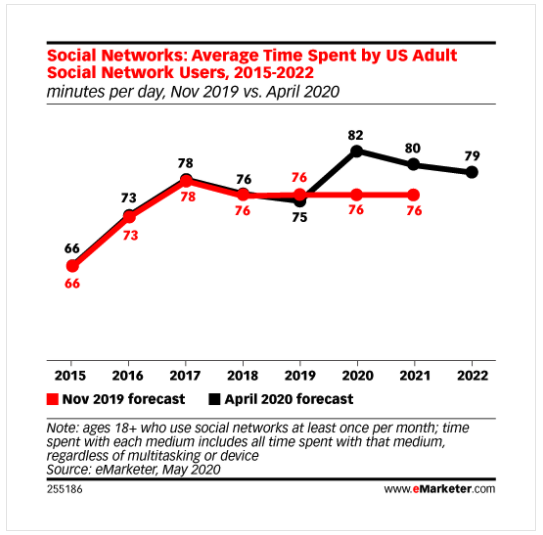 Source: eMarketer
"They're on social, they're using it as a platform for themselves for thought leadership, they're using it to stay informed, and they're using it to talk to their employee base," Karin says. "This is something I think you're going to see more of."
With more and more people engaged digitally, it's important to find out where — and when — they're hanging out online.
And remember: Not all social channels are created equally, so examine your strategy platform by platform. 
AMP Up Your Digital Marketing brings together the leading marketing practitioners to share how they are succeeding in today's digital landscape. Each podcast episode focuses on providing you with the knowledge and strategies you need to be a successful marketer. Subscribe via Apple, FIR Podcast Network, or wherever you get your podcasts. 
Want to appear on AMP Up Your Digital Marketing? Contact Us and let us know how our listeners can benefit from hearing your