Podcast: Play in new window | Download (Duration: 21:22 — 14.9MB) | Embed
Subscribe: Google Podcasts | Email | RSS
Your inbound marketing strategy likely took a hit this year thanks to the pandemic. In order to rebound from this, you need to adjust and be agile.
In this episode of AMP Up Your Digital Marketing, Glenn Gaudet speaks with Jen Spencer, VP of Sales and Marketing at SmartBug Media, an intelligent inbound marketing agency. On the show, they discuss the impact of COVID-19 on inbound marketing, and what her advice is for organizations to adjust, what organizations should do as businesses reopen, and what her takeaways are from this time.
You'll learn:
The impact of COVID-19 on inbound marketing.
How to keep your inbound marketing strategy agile.
Why it's important to consistently talk to your customers.
This year has been unlike any other, and that's an understatement. It's caused all of us to adjust a great deal on short notice. Plans you made in January had to completely change in March, and this includes your inbound marketing strategy.
Organizations have really had to shift away from events, and they've had to completely change their messaging. But that alone is a lot to change in not a lot of time. So what can marketers do in that scenario? What have they done? Has inbound marketing worked at a time like this?
The State of Inbound Marketing During COVID-19
Inbound marketing still works, but some organizations have had to adjust more than others and this depends on a few things.
One is the vertical you're in, and the other is the agility of your inbound marketing strategy. Some organizations provide solutions that support a remote workforce, and those verticals are thriving right now.
Outside of organizations that provide services for remote workers, e-learning, etc., businesses need to be cautious with their marketing budgets due to uncertainty. For SmartBug, website traffic dipped in March when the coronavirus made its initial impact on the economy. But in April, traffic kicked back up, and so did marketing qualified leads, with sales qualified leads increasing in May.
During this time, people are doing research, and there is a general interest in learning more about products, services, and solutions to make their jobs easier. Companies may not be able to sign a contract yet since they have to be more careful with their budgets, but they are itching to make a move.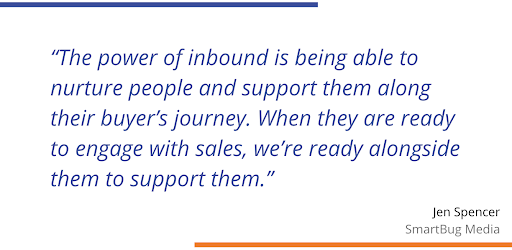 "The power of inbound is being able to nurture people and support them along their buyer's journey," Spencer said. "When they are ready to engage with sales, we're ready alongside them to support them."
The Start of COVID-19's Impact on Inbound Marketing
SmartBug Media started preparing for the economic impact of the coronavirus in mid-March. Just two weeks later, the tone of sales calls really changed.
"We started to see folks that said, 'Yeah, I want to commit to growing my marketing strategy,' and they were getting ready to sign off on a contract," Spencer said. "All of a sudden their budget got cut by 30%, 50%, 70%…That's really when it hit."
Spencer notes that if you looked at sales data for SmartBug without any context, it would look like there was a dip in April and then a recovery in May.
"That's just been what we've experienced so far," she said. "We are staying on our toes, using data to help inform the decisions we are making both in marketing and sales."
Every organization is unique from each other depending on their verticals, how diverse their inbound marketing strategy is, and how prepared they were to work remotely ahead of the pandemic.
"There is not a one size fits all approach to tackle this economic and health crisis," Spencer said.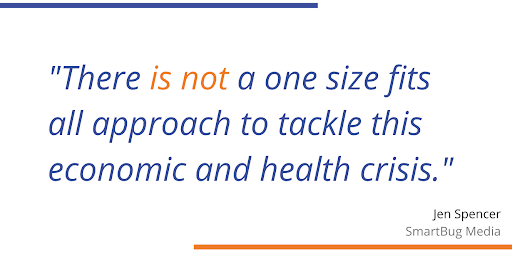 Planning Ahead
Organizations need to be wise and not depend on anything that is uncertain.
The obvious example is events. SmartBug typically encourages clients to not be too dependent on events, but many organizations still have conferences and tradeshows as a big part of their inbound marketing strategy.
"We can't just assume that, 'Oh, this tradeshow is normally in November, December, or January, so it'll probably be fine,'" Spencer said. "No, we need to assume it probably won't happen. Think of events as frosting on your cake. That changes your way of thinking."
If your events do end up happening, that's great and you can leverage that, but you need to plan as if there won't be any events for quite a while, Spencer added.
In order to be more agile in your inbound marketing strategy, you need to be more diverse in your approach. Use a multitude of different strategies, instead of placing all your eggs in the event basket. Obviously, no one predicted events not happening for a whole year prior to 2020, but it's good to be diverse in your strategy regardless.
What marketing teams need to do is go back to the basics and refine their buyer personas. You may have done this research as recently as January, but that persona is outdated due to COVID-19.
Talk to your customers, conduct surveys, and have focus groups. This will help you figure out how you can help people, and it's a huge benefit to be on the same page as your target audience.
But ultimately, it's all about picking up the phone and having one-on-one conversations with customers.
"It's always a good thing to do, but people do not do it. They don't," Spencer said. "There are so many other things to do, and I get it. We are all really busy, but don't wait for [customers] to be up for renewal. You need to have conversations early and often."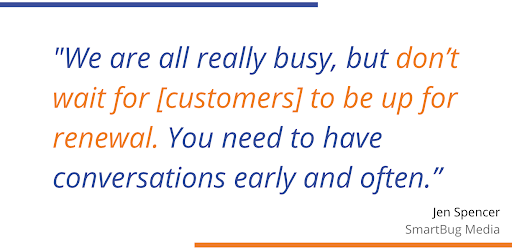 AMP Up Your Digital Marketing brings together the leading marketing practitioners to share how they are succeeding in today's digital landscape. Each podcast episode focuses on providing you with the knowledge and strategies you need to be a successful marketer. Subscribe via Apple, FIR Podcast Network, or wherever you get your podcasts. 
Want to appear on AMP Up Your Digital Marketing? Contact Us and let us know how our listeners can benefit from hearing your message.