Podcast: Play in new window | Download (Duration: 19:24 — 13.6MB) | Embed
Subscribe: Google Podcasts | Email | RSS
Many organizations had a go-to-market strategy in place heading into 2020, but the pandemic made them go back to the drawing board.
In this episode of AMP Up Your Digital Marketing, Glenn Gaudet speaks with Diana Stanley, Sr. Director of Marketing at Osmosis, a healthcare education platform that focuses on medical students and caregivers. They discuss Osmosis's go-to-market strategy, and how it had to adjust during COVID-19.
You'll learn:
What to do if much of your traffic isn't your target market.  
How to build brand affinity. 
Being an organization that focuses on health education, future clinicians look at content from Osmosis in order to learn about specific health conditions and continue their education. It might be on YouTube, where it has over 1.6 million subscribers, or Facebook, where it has over 110,000 followers.
But when a global pandemic hit, medical students weren't the only ones who wanted to know more about health conditions. COVID-19 became a sought after topic. So in this situation, how do you change your go-to-market strategy? Many of the people consuming this content are just in the general public and will never convert. So, what do you change?
"The core competency of what we do is education," Stanley said. "With COVID-19, we leveraged that and made sure all of the different types of learners we have [were represented]. We extended the offering to everyone, including medical and health students, as well as general public caregivers."
Osmosis had to ramp up content it had planned in the next several months and accelerate the content creation process. All its COVID-19 educational and informative content is free, and the offering and packaging of its curriculum for medical students and caregivers did not change.
Importance of Segmentation
Despite getting tens of thousands of more views on some of its COVID-19 content compared to its other content, Osmosis is able to handle the spike in traffic.
To adjust its go-to-market strategy for these new visitors, the company segments people who visit the company's content and website into appropriate categories. If they're able to identify someone is not a medical student or caregiver and is just trying to learn about COVID-19 to be safe, they won't be treated as a lead, but they will get information on how to be safe and precautions they should take.
Osmosis has content on over 1,500 topics, so when people visit other topics, it's more likely they are in Osmosis's target audience.
Handling a Traffic Spike
Being in the field it's in, Osmosis had a massive jump in traffic due to the educational resources it offers for COVID-19.
Furthermore, the company's CMO, Rishi Desai, became the subject of a viral video after his appearance on Fox News, leading to even more of the general public visiting the site and consuming its content.
"With COVID, [traffic] exploded," Stanley said. "We had this influx of traffic from people who weren't part of our core target audience. And that was OK. Our mission statement is to provide future clinicians and caregivers the best experience possible. Caregivers are anyone and everyone who might have a medical condition or have a loved one with a medical condition, and they just want to learn about it. So that was OK. What we needed to focus on was, how do we segment this audience and make sure we are still engaging with them in some way?"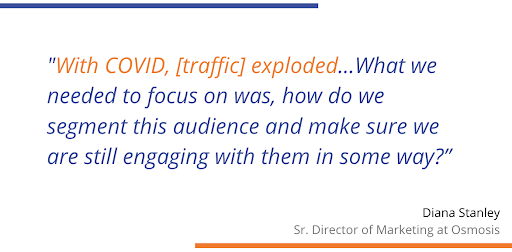 As many companies had to do, Osmosis scrambled to shift its go-to-market strategy. It had to make sure visitors were going down the right paths. It had to filter a large number of visitors quickly, build new email nurtures, make sure it was identifying visitors properly, and more.
Don't Start From Scratch
The trick for Osmosis was to adjust its existing plans rather than start from the ground up. It had plans for its go-to-market strategy entering the year, but rather than scrapping them completely, the marketing team adjusted them to fit the current climate.
"This was an opportunity to leverage our core competency around education," Stanley said. "There was a huge impact on our core audience. What we did was find ways to marry the two."
If visitors came to the site who aren't in the target audience, that wasn't a detriment. Osmosis was able to build goodwill by offering free resources. The CTA for all its content is to share it. By encouraging people to share content, it was a great opportunity to inform people while also building brand awareness and brand affinity.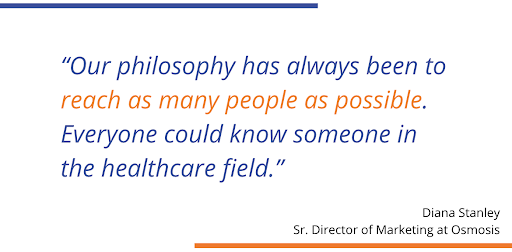 "Our philosophy has always been to reach as many people as possible," Stanley said. "Everyone could know someone in the healthcare field. We will always have an offering for anyone, whether it's a single educational video. They'll find it helpful, and they'll share it out to their network."
AMP Up Your Digital Marketing brings together the leading marketing practitioners to share how they are succeeding in today's digital landscape. Each podcast episode focuses on providing you with the knowledge and strategies you need to be a successful marketer. Subscribe via Apple, FIR Podcast Network, or wherever you get your podcasts. 
Want to appear on AMP Up Your Digital Marketing? Contact Us and let us know how our listeners can benefit from hearing your message.