Podcast: Play in new window | Download (Duration: 20:07 — 14.0MB) | Embed
Subscribe: Google Podcasts | Email | RSS
Establishing a strong company culture is important for any organization, but it can be difficult for a remote workforce to do this.
In this episode of AMP Up Your Digital Marketing, Glenn Gaudet speaks with Michelle LeBlanc, a social media and content marketing consultant who works primarily in the transportation and logistics space. They discuss how companies with remote workers uphold company culture and values, what the benefits are, and the role user generated content (UGC) can play for your employees. You'll learn:
How an organization with a remote workforce can uphold its company culture and values.
How UGC helps in a big way.
The benefits of a strong company culture have on retention and recruiting.
During the coronavirus pandemic, most companies are working 100% remotely even if they've never done so before. This presents some new challenges. How do you manage a remote workforce? Do you have the right tools in place for employees to do their jobs from anywhere without losing any productivity? How do you uphold company culture and make your employees feel included rather than disconnected?
Michelle broke down the answers to these questions in her conversation with Glenn. Many of her clients are trucking companies, as she's an expert in working with remote workforces on marketing strategies and getting employees engaged as part of their company culture.
How to Approach Company Culture With Remote Workers
For trucking companies, company culture has always been important. It's easy for truck drivers to feel disconnected from others since they don't see each other often.
But these companies typically pay attention to this and make a concerted effort to keep employees connected and maintain a strong workplace culture.
Drivers may not have a laptop or a workstation you'd typically see at an office, but they do have a tablet, a smartphone, and a dashboard on their devices that keep them digitally connected to their distributed coworkers. Communication through their devices helps them feel more connected to coworkers and not out on an island and alone.
Outside of digital communication, many companies try to make their employees feel valued in other ways, such as including them in content, highlighting content they create, and highlighting achievements.
When any organization, even trucking companies, make a concerted effort to keep employees engaged, it usually ends with positive results. But building a good culture with people who uphold your values starts at square one.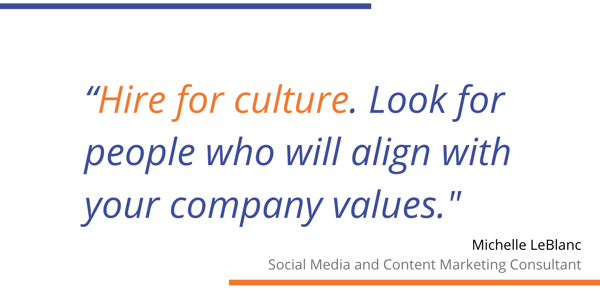 "Hire for culture," Michelle said. "Look for people who will align with your company values. Companies that are driven by their values will shine at this time."
Benefits of Upholding Values and Prioritizing Company Culture
When organizations hire with company values in mind, it improves retention. This is a major cost-saving benefit and helps HR not have to recruit new employees, allowing them to spend time in other areas.
"Every time we have to recruit someone new, we don't have the knowledge of the person anymore, and from a loss of productivity perspective, we lose something like $5,000 every time that happens," Michelle said. "If we can retain people, that's a huge value prop. Keep the people you already have."
To keep retention up, you have to prioritize culture, and make employees feel valued and part of the greater group. This goes for employees out driving trucks, employees in the executive office, employees distributed around the world in different timezones, and these days, every employee working from home for the first time.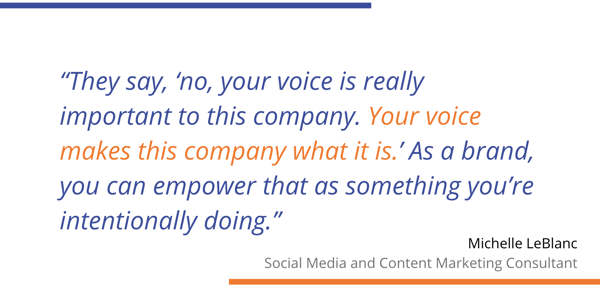 "I have seen that be really important for companies I work with," Michelle said. "They say, 'no, your voice is really important to this company. Your voice makes this company what it is.' As a brand, you can empower that as something you're intentionally doing."
Highlighting Employees in Your Content
One way to make employees feel more valued is to include them in your content strategy. This makes them feel important, and part of your organization.
You can interview employees to include them in your content, and share that content online, which presents your employees to the outside world as thought leaders and valued members of your team.
Using an employee advocacy program, you can share these posts across your organization, letting coworkers know – no matter what their job is, where they're driving a truck, or what timezone they're in – that their teammate was highlighted in a post. Coworkers will like and share the post to their networks and enjoy the camaraderie while boosting your social reach.
You can also distribute UGC that your employees put together. This can be something as simple as pictures and videos that take while on the job, and company-related social posts.
How UGC and Employee Advocacy Helps
When employees post their own content online, and coworkers engage with it, it builds cometary and presents your organization as a great place to work.
Many truck drivers are very social media savvy, and some even have a large presence and have their own YouTube channels. Their reach is valuable for promoting what they do and what your organization values.
Roughly 80% of truck drivers don't create posts and usually just engage with other people's posts, but about 10-20% of these employees create their own content, Michelle said.
For this to be valuable to your employee advocacy program, you do not need 100% of employees to be active on social media or create social posts. That will almost never happen. But if you have a fraction of your employees engaging on social media, or even creating their own content, it's a huge benefit.
"There were exceptional employees who received awards, and we put them through a PR media training and got them ready to shoot videos for us," Michelle said. "We edited and put them out on brand channels. Other people realized, 'Wow, I know that person, and now they're kind of famous. Maybe I can do something like this too.'"
Organizations can also do lower budget things like hold a photo contest. This will drive activity and engagement from employees way up. People want to win the content, but they also want to support their friends at work.
AMP Up Your Digital Marketing brings together the leading marketing practitioners to share how they are succeeding in today's digital landscape. Each podcast episode focuses on providing you with the knowledge and strategies you need to be a successful marketer. Subscribe via Apple, FIR Podcast Network, or wherever you get your podcasts. 
Want to appear on AMP Up Your Digital Marketing? Contact Us and let us know how our listeners can benefit from hearing your message.