Podcast: Play in new window | Download (Duration: 22:08 — 10.3MB) | Embed
Subscribe: Google Podcasts | Email | RSS
For marketers, it's difficult to plan with so much uncertainty, leaving them to wonder how they should go about their marketing strategy during this pandemic.
In this episode of AMP Up Your Digital Marketing, Glenn Gaudet speaks with George Jacob, Vice President at Marketri, a B2B strategic marketing consultant. They discuss the challenges organizations face during the coronavirus pandemic, and how they approach their marketing strategy. You'll learn:
How organizations should try to pivot.
Why they should focus on what they do well.
How to prioritize your plans during the pandemic.
During the time of coronavirus, everyone needs to adjust, and that is a struggle for many organizations. For marketers, how do you adjust your marketing strategy, and what's the right direction to go? Where do you start?
Jacob explains why you should focus on the basics of what you do well.
How to Begin to Pivot Marketing Strategy
Executives might have a tough time adjusting to new business models in a short period of time, switching up their internal processes, and totally pushing towards a different marketing strategy from what they were doing before.
In these instances, Jacob meets with clients and gets down to the basics. He goes over the SWOT exercise where he has clients nail down the strengths, weaknesses, opportunities, and threats of the organization.
"What are we working with?" Jacob said. "In a time when you need to make a quick decision, it's always a good idea to have a knowledge of what you have at your disposal to make that pivot."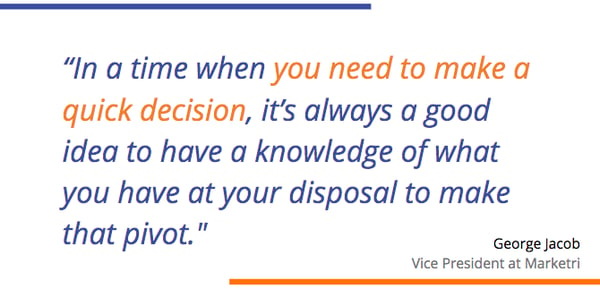 During the time of the pandemic, the idea is not to completely transform your entire organization and business model from top to bottom. That is not realistic. The idea is to slightly pivot, so you can operate and function during these unique times, and eventually, there will be some return to normalcy.
What Does a Pivot Look Like?
By "pivot" we're referring to adjusting your marketing strategy. But for many organizations, this pandemic requires adjusting the way they operate.
For example, a financial services company can still be helpful to their clients, but they just can't meet in person like they may have done before. However, there are some services that have to meet in person, so there is no way around it.
"In some cases, it's about changing your messaging and going after a secondary market," Jacob said. "In some cases, it's about investing in marketing operations and technologies that you've been putting off. Get that operational effectiveness down, so when we're through the pandemic we can hit the ground running."
How to Plan Your Marketing Strategy
There is a ton of uncertainty right now, so how do you plan for the future? No one knows when this pandemic will fully lift and when we'll start to see a return to normalcy.
Because of that, you can't plan a long-term roadmap of what you want to accomplish this year, what goals you want to hit, and when you want to accomplish them by. Instead, you have to plan for the short-term in hopes that the pandemic will eventually lift.
For example, many organizations were hit hard by the cancellations of conferences this spring and summer. They are hoping that these conferences will still take place later this year, but we don't know that will happen for sure. Even if the conferences do take place, we don't know if nearly as many people will show up.
So how do you plan for these big uncertainties?
Jacob says that you should use this time to tackle items you've wanted to take care of but haven't had time for.
"Everyone has lists of things they want to accomplish," he said. "Let's go back to the things we can do now. Let's not get distracted by building out for three months. Let's do what we can do now."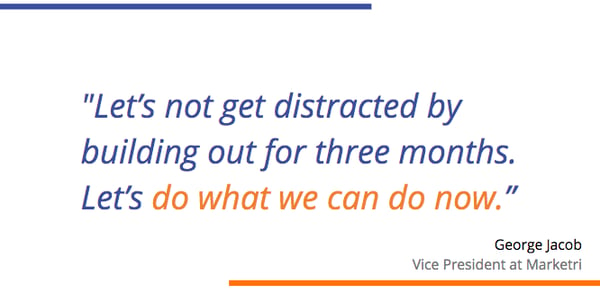 In the past, you may have had three top priorities of what you want to accomplish, but now it's about adjusting. Maybe only one of those priorities is realistic. What were numbers four and five on your list?
"It's about the message, and the value prop," Jacob said. "It just might be slightly different."
How Far Ahead Should You Plan?
Before the year, marketers typically planned six to twelve, to even 18 months out. But now, how do we navigate that with so much uncertainty?
We don't even know what next month will look like. Will businesses reopen without a hitch? Will only some business reopen? Will businesses be forced to shut down again?
"You think of your business in a certain way and how you will grow and evolve, but now everyone is rethinking what their business is," Jacob said. "What will help us survive and keep us through this? How do we change the service? How do we generate revenue through this function? It's a hazy guess right now, but it's better than no guess at all."
Some companies have an opportunity during this pandemic, but most do not at all. What they do in the coming weeks and months depends on their risk tolerance, Jacob said.
If your organization was budgeting for events, you might want to put it somewhere else and decide what you want to spend it on later when the pandemic clears up.
"Put it in a rainy day box, or put that money into PPC or somewhere else," Jacob said. "That's easier than setting up an event."
But Jacob's biggest piece of advice is for marketers and organizations as a whole to focus on what they do well, and lean into that area, because that will make the biggest impact in the shortest amount of time. Focus on that one thing that you do well that you can actually accomplish in the short-term.
AMP Up Your Digital Marketing brings together the leading marketing practitioners to share how they are succeeding in today's digital landscape. Each podcast episode focuses on providing you with the knowledge and strategies you need to be a successful marketer. Subscribe via Apple, FIR Podcast Network, or wherever you get your podcasts. 
Want to appear on AMP Up Your Digital Marketing? Contact Us and let us know how our listeners can benefit from hearing your message.