Podcast: Play in new window | Download (Duration: 23:09 — 10.8MB) | Embed
Subscribe: Google Podcasts | Email | RSS
The coronavirus forces almost all organizations to work remotely, but many are new to the game and struggle to manage a remote workforce.
This is why Glenn Gaudet sat down with Clinton Bonner, VP of Marketing at Topcoder, an on-demand virtual talent platform, for this episode of AMP Up Your Digital Marketing. Topcoder has been in business for about 20 years but has been a 100% remote workforce for over 8 years. Bonner shared his tips for leading a successful remote workforce and how he operates Topcoder's marketing strategy. In this episode, you'll learn: 
Why it's important to stay up to date on what productivity tools are out there. 
Collaborative tool recommendations for remote workers. 
The pros and cons of mixing tools rather than having one centralized platform.
Stay Up To Date on Productivity Tools
Almost any organization can be successful with a remote workforce, but it's imperative that you have the right productivity tools. There are multiple factors you have to weigh before adopting a platform to know if it's the right fit for you. Does it meet your regulation requirements? Can you afford it? Does it easily solve the problem you're facing? Will people in your organization use it?
Sometimes these can be tough questions, but you're the only one that can figure these things out because you know your organization the best.
Another difficult question you need to answer is, is this tool better than other products out there? The reason this question is so difficult to answer is that new platforms come out all the time.
"It is a constant progression of tooling and understanding of what's out there to be on the edge of understanding of how to best work virtually and how to best work with remote, distributed teams," Clinton said.
Related: How Communication Technology Fosters Employee Engagement 
The Basic Needs of a Remote Workforce
There are so many new and advanced platforms for organizations to pick from. At your most basic level, you'll have to choose your productivity suite – G Suite and Office 365 being the most popular. Most organizations either have one or the other.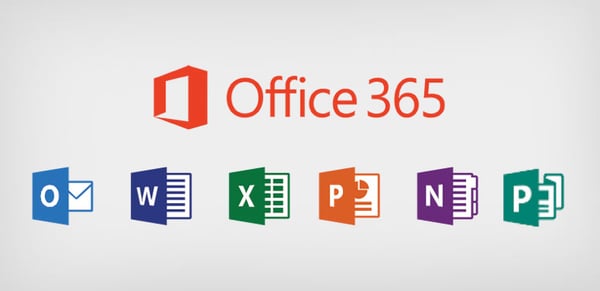 These are your first-day platform selections. Think about what that shows in terms of how fast we're moving. These are collaborative cloud applications that a lot of people weren't using just five years ago, and now these are your basic needs.
Then you might use a cloud storage platform such as Dropbox, Box, Google Drive, Microsoft OneDrive, or something similar. This helps you share files quickly, collaborate with colleagues, and store files security.
An important factor for any remote workforce is how you communicate with each other. There are many tools out there for messaging. Many organizations use Skype for Business, Google Hangouts, and others. In recent years, Slack has been one of the fastest-growing messaging platforms around.
Video calling has been increasingly popular too. Skype, Hangouts, and Slack all offer video chat capabilities, but you might implement Zoom instead. If you hadn't heard of Zoom just a couple months ago, you probably know it now, as it's the app that has probably gained the most popularity during the coronavirus pandemic, allowing users to easily have person-to-person contact.
Productivity Tools in Clinton's Remote Workforce
Frame.io
Not everything you do at work revolves around emails, calendar invites, slideshow presentations, and word processing.
Content is incredibly important, and the most engaging type of content is video. Within the last few months, Clinton's team started using Frame.io for a recent documentary project. Frame.io is a cloud-based video collaboration tool that allows colleagues to create videos together that they can use for social posts, website content, presentations, and more.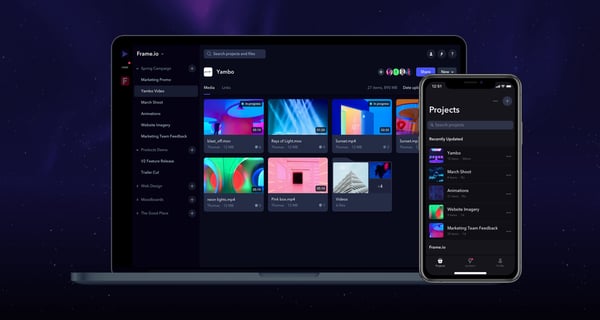 Source: Frame.io just got a major upgrade
"Think of Google Docs but for video," Clinton said.
With Frame.io, colleagues can leave comments on any point of a video to suggest ideas, give feedback, and make changes.
Marvel
Marvel was suggested to Topcoder by its customers, and now Clinton considers his team "power users" of the platform.
Marvel is a design platform that allows users to collaborate on wireframes and UX ideas for web applications. The platform presents no-code, clickable prototypes of designs. Users can look at projects, add suggestions, and send prototypes back to designers in a virtual environment.
"The core essential pieces for a virtualized workforce are really strong annotation and comms," Clinton said.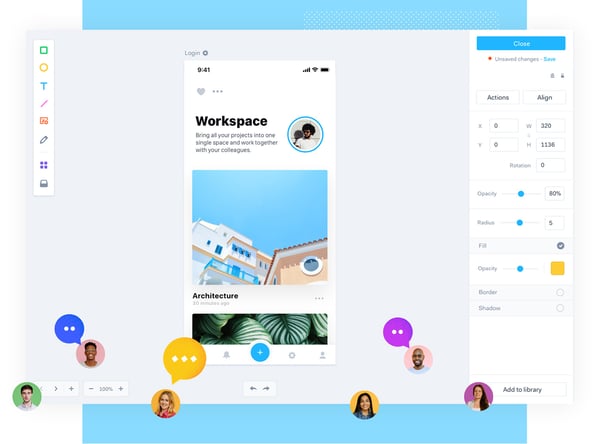 Source: Marvel
Instapage
Instapage is a cloud-based landing page builder that allows users to create designs personalized for each visitor.
The idea behind Instapage is to give marketers a way to easily build creative landing pages and reap the benefits of higher conversions.
"I've been a fanboy of Instapage for a few years now," Clinton said.
Topcoder is a Salesforce shop, but instead of sticking to one platform, it uses a multitude of remote tools to solve its problems, and for landing pages, it finds Instapage to be the route that works. Just like the other cloud platforms, it allows for collaboration across a remote workforce in real-time.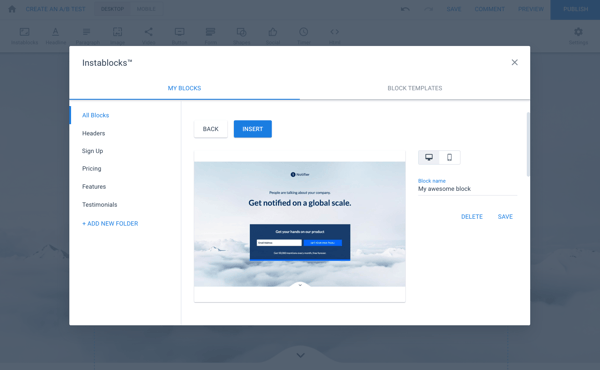 Source: Introducing Instablocks: A New Way to Create Post-Click Landing Pages at Scale
Using a Multitude of Productivity Tools
By not having one single centralized platform, whether it's Marketo, Hubspot, or something else, there is a tradeoff, Clinton says.
"The biggest tradeoff for us, and something we're still looking to solve for, is that really strong content repository," Clinton said. "We put out a ton of good content, and when we got out of a particular marketing CRM, that was the one tool where I was like, 'oh, man I really still wish we had a strong repository that was there that was easily shareable. Now it's a little bit of a hodgepodge for us."
There are other areas that Clinton says his marketing team doesn't have by not having a centralized platform. They don't have a clear A-Z view of the customer journey, but Clinton is ok with that.
"I would rather focus on really strong content, getting it out to market, having great pages that we know convert, and then having rapid followup," Clinton said. "I don't put that much focus on lead conception all the way through the buying cycle…we're focused on enterprise sales and technologists who want to come in and get virtual work done…we don't need them on some six-month journey."
This strategy will not work for everyone and isn't perfect, Clinton added, and it's still something that they work on, but as a niche organization, it works for them, he said.
Subscribe to The AMP Up Your Digital Marketing Podcast!
AMP Up Your Digital Marketing brings together the leading marketing practitioners to share how they are succeeding in today's digital landscape. Each podcast episode focuses on providing you with the knowledge and strategies you need to be a successful marketer. Subscribe via Apple, FIR Podcast Network, or wherever you get your podcasts. 
Want to appear on AMP Up Your Digital Marketing? Contact Us and let us know how our listeners can benefit from hearing your message.