Podcast: Play in new window | Download (Duration: 19:15 — 9.0MB) | Embed
Subscribe: Google Podcasts | Email | RSS
It's no secret that people are canceling conferences and other events left and right due to the coronavirus pandemic, so what can you do to host a virtual conference?
In this episode of AMP Up Your Digital Marketing, Glenn Gaudet speaks with Armen Najarian, CMO and Chief Identity Officer at Agari, an email security company. Armen recently had to make the tough decision of canceling his company's annual customer conference, Trust 2020, and quickly organized a virtual conference to take its place. He walked us through the entire process, what he learned, and how he views the end result. You'll learn:
How to message this decision to your organization, your attendees, speakers, partners, and others.
What the lasting effect of virtual conferences becoming so common in 2020 will be. 
What the benefits are of a virtual conference over a physical event. 
Of course, this was not an easy decision. There were a lot of factors to consider, but unfortunately, this is a path many companies and event organizers have to walk down this year.
Making the Tough Decision
At the end of the day, Armen is happy with the way his team adjusted its plans into a virtual conference. Of course, he would have liked Trust 2020 to take place in LA as a physical conference, but considering the circumstances, it's on track to be a very valuable event to all involved.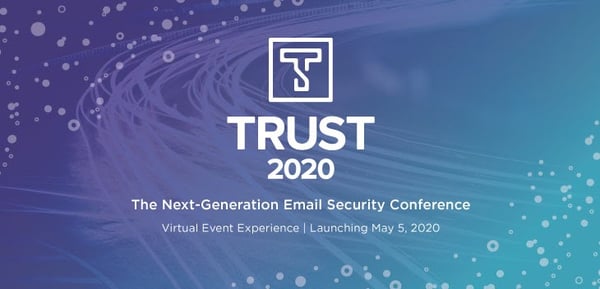 But as you can imagine, this was a difficult decision to make.
"We had a lot of angst in the week leading up to making the decision to transition from physical to digital," Armen said on the podcast. "We psyched ourselves out thinking, 'oh my goodness the sky is falling, no one will want to show up, our entire workforce is going to be angry,' and that's not the case."
Armen says that despite the inconvenience of being forced to make the transition to a virtual conference, this experience showed him that people are resilient and flexible.
"People understand and embrace the opportunity and are excited about this," he said. "Don't get too stressed out about having to make this transition. It's something that if done reasonably well, is still very valuable, and people get that."

Breaking The Big News
Anyone who has organized a conference before knows there's a lot that goes into it and a lot of people behind it.
This means you have to tell everyone about the big change you're making towards a virtual conference including attendees, speakers, everyone in your organization, the broader market, and the venue.
Of course, this news disappoints many people internally. There were a lot of people at Agari involved in putting the physical conference together, including salespeople who drove many registrations, people who worked hard on content, and more.
Your message to everyone at its most basic level has to be that you're making a difficult but necessary decision to cancel the physical event, but the show will go on digitally. You will follow up with more information.
What this does is it gets the word out quickly in order to give people plenty of time to cancel travel arrangements and hotel stays, while giving the organizers time to logistically put together the virtual conference.
This is the route Agari took, and it was able to follow up this message with more details about the virtual conference, including the date, how attendees can access the content, who will be speaking, and more.
Working With The Venue
Canceling a conference with a venue might not seem as important as working with your attendees, speakers, and everyone in your company, but it's definitely a big deal.
When you commit to holding a conference at a venue, which in this case is a luxury hotel and resort in Los Angeles, you have to sign a contract. But in this situation with respect to the coronavirus pandemic, of course, the hotel's representatives will be understanding and flexible, right?
"At first they were very defensive, and holding a hardline," Armen said. "They would say, 'sorry, you signed a contract, and you're on the hook for the full amount.' It was almost as if they hadn't really been paying attention to the reality that every single company is going to have to go through this process right now that had physical events booked at their hotel and elsewhere."
But soon enough, the hotel shifted its tone and helped Agari out, Armen said.
"By the following week, they came back with a very reasonable accommodation," he said.
Agari was only on the hook for a small portion of what it was contracted to commit. All of that could be applied to a resort credit, which could be used for an upcoming event. Armen hopes to use this credit towards next year's conference.
Benefits of a Virtual Conference
In a perfect world, there would be no coronavirus, Agari wouldn't have to cancel its event, and there would be no need for the virtual conference.
Having said that, hosting a virtual conference isn't all that bad.
There are a few benefits to going digital. It's easier for people to access the content at a virtual conference, which means you can open up your event to a broader audience of people. Agari opened up the event to the entire information security space and invited even more prospects and partners.
It takes less commitment for people to join a virtual conference, so people who are just fairly interested in your brand can see what you're all about without booking a flight, hotel stay, and devoting a ton of time. Sessions are on-demand, so even if someone can't attend right when a session goes live, they can watch it later.
It's also less commitment for speakers. Every speaker session is prerecorded, so a speaker doesn't have to present at the exact time their session goes live, but there will be live Q&A sessions with many speakers. The speaker also doesn't have to make travel and hotel accommodations, so they're even more likely to participate.
In the case of Trust 2020, all the speakers who were slated to talk at the physical event will still present at the virtual conference. In fact, there were some pretty high-profile speakers who reached out to Agari and offered to participate in the virtual conference, Armen said. These people would not have offered to present at the physical event in LA.
"As far as the experience goes, obviously it will be very different, but the content and the body of work that we would have delivered physically will carry over to the digital world," Armen said.
What's Next For Virtual Conferences?
The Trust 2020 virtual conference will take place on May 5, and is fully expected to be a great experience for attendees.
But being forced to set up a virtual conference in a short amount of time isn't an endeavor that is specific to Agari. Many organizations this year will be forced to switch to virtual events this year or cancel them entirely. So what will the lasting result of this be on all of us after our lives return to normal?
"We've now exercised a new muscle," Armen said. "We will reorient the business world around, 'Hey, digital events can be done, and be done very well.' I would predict that there will be physical events in the future, but there will also be a higher rate of digital events like this [than there were before]. It will affect the plans of yesterday of how we thought of putting together large scale customer conferences."
Trust 2020 is an interactive experience dedicated to helping security leaders learn about the evolving threats facing organizations today. If you are interested in attending the event, register here.
Many thanks to Armen for appearing on the show. If you would like to connect with him, he can be found on LinkedIn.
Subscribe to AMP Up on Apple Podcasts!
AMP Up Your Digital Marketing brings together the leading marketing practitioners to share how they are succeeding in today's digital landscape. Each podcast episode focuses on providing you with the knowledge and strategies you need to be a successful marketer. Subscribe via Apple, FIR Podcast Network or wherever you get your podcasts. 
Want to appear on AMP Up Your Digital Marketing? Contact Us and let us know how our listeners can benefit from hearing your message.