Podcast: Play in new window | Download (Duration: 21:50 — 30.1MB) | Embed
Subscribe: Google Podcasts | Email | RSS
In this episode of AMP Up Your Digital Marketing, Glenn Gaudet speaks with Scott MacKenzie of Industrial Talk. They discuss why podcasting is a vital element to the sales, marketing, and branding strategy for any business and how to get started. You'll learn:
The greatest value to podcasting for industrial services companies is the opportunity to develop relationships with your guests.
You can start a podcast about anything. To make it interesting, Scott says, you just have to find the "human element" of any subject.
An engaging host is key to a podcast's success. Find someone who can get guests talking about what they're passionate about.
"You can start a podcast about anything — and you should," says Scott MacKenzie of Industrial Talk.
Scott takes on a marketing and branding challenge many of us would probably balk at: industrial marketing and podcasting. He joined the AMP Up Your Digital Marketing podcast to talk to Glenn about why your company needs a podcast — even if you make, say, industrial mops.
Scott shared his clever reasoning behind podcasting as a marketing, sales, and branding strategy for industrial service companies, plus his tips on how to make a podcast about anything.
The Right Time to Start a Podcast
Wondering when to start a podcast for your brand? Scott makes it easy.
"The right time is now, there's never really any reason why you should hesitate," he says.
Podcasting is a simple channel to set up with minimal research, effort and tools. If you're not doing it, Scott believes you're missing out on a huge opportunity to shine in your market.
"If you're not in the podcasting game," says Scott, "somebody's going to capture that market, and they're going to be the industry thought leader, and you're going to be left behind."
Scott has been working in industrial marketing for more than 40 years, and he sees podcasting now as an integral part of any sales, marketing and branding strategy.
Podcasting as a Lead Generator
The greatest value of podcasting for your company, Scott says, is in connecting with people.
Turn your prospects into guests.
Podcaster Benjamin Shapiro of the MarTech Podcast announced a new podcast and his comments were flooded with prospects and interviewees.
When you invite someone to be a guest on your podcast, Scott says, "all of a sudden, you're creating a relationship with that prospect. The sales cycle is all about 'know, like, trust, friendship.' Once you develop that, then there's no stopping where you can go."
"And," he points out, "people want to be on the podcast." That's because, simply, "people love to talk about what they do."
Your podcast provides a platform for them to do that and a reason for you to get them talking about something they're passionate about, and, Scott says, "all of a sudden they love you."
Once your podcast helps you develop that relationship, your company is top of mind when they need what you offer. It's easy to keep the conversation going, because you've gotten to the heart of what they care about — without a pushy sales call.
How to Choose a Topic for Your Podcast
When your company produces something as specific as that industrial mop we mentioned, what on earth should you make a podcast about?
Unlike a typical marketing or sales campaign, which would focus on the pain points your product relieves and the features of the product, a podcast isn't about the product.
"I will always go to the human element," Scott says of developing podcasts for his industrial clients.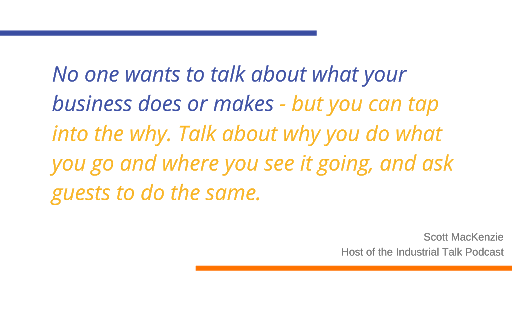 No one wants to talk about what your business does or makes — but you can tap into passion by getting to the why. Talk about why you do what you do and where you see it going, and ask guests to do the same.
When you start talking about the why, people get excited. When you can tap into that human element, you'll be able to connect with guests and listeners, regardless of the subject.
Who Should Host Your Podcast?
Part of Scott's job is to create podcasts for his clients, including hosting. Can you really outsource a key element like this without losing the connection to your own brand?
He points out that an engaging host is really what can make or break a podcast. That doesn't mean a good radio voice or broadcasting expertise. They just need to be able to connect with a guest, draw a conversation out of them and tap into their passion.
If you have this person in your company, great. If not, it's worth outsourcing the role to ensure an engaging podcast.
Learn How Social Selling Can Help You!
AMP Up Your Digital Marketing brings together the leading marketing practitioners to share how they are succeeding in today's digital landscape. Each podcast episode focuses on providing you with the knowledge and strategies you need to be a successful marketer. Subscribe via Apple, FIR Podcast Network, or wherever you get your podcasts. 
Want to appear on AMP Up Your Digital Marketing? Contact Us and let us know how our listeners can benefit from hearing your message.