Podcast: Play in new window | Download (Duration: 22:46 — 31.4MB) | Embed
Subscribe: Google Podcasts | Email | RSS
In this episode of AMP Up Your Digital Marketing, Glenn Gaudet speaks with Gaetano DiNardi, Director of Demand Generation for VoIP phone service provider Nextiva. Gaetano discusses the shift from old-school lead generation into the kind of role he plays as a growth marketer and why this change is vital for brands. You'll learn:
Traditional lead generation isn't as useful as it once was. In its place, growth marketing helps you cultivate a trusted brand to bring prospects to you.
Because of modern buyer behavior, owning your brand in search is the most important marketing investment you can make.
Despite its trending popularity, account-based marketing isn't right for every brand or product.
The meaning of "demand generation" is shifting.
Old-school lead generation — capturing top-of-funnel contacts and taking a spray-and-pray approach to cold outreach — is out. Well, it still exists, but it's not the best use of your time. It's inefficient and ineffective.
"Nowadays, it's much more than just pure lead gen," says Gaetano DiNardi, Director of Demand Generation at Arizona-based cloud communications company Nextiva.
Generating demand for your product or service now is about cultivating your brand and nurturing prospects. In a big way, it's about simply being ready when buyers come to you.
Gaetano joined the AMP Up Your Digital Marketing podcast to discuss this modern approach to demand generation and how you can focus your marketing efforts for the best results.
How Growth Marketing Differs From Lead Generation
Gaetano has become skeptical of the term "lead generation," because it elicits an image of scraping together a pipeline of unqualified leads to bother with your sales pitch.
Now, he says, "There is a familiarity and voice that comes with successful lead gen, and I think brand and customer experience are two huge differentiating factors. And I don't think you can be successful at lead gen in the future without brands."
Using "growth marketing" in place of "lead generation" speaks to that holistic, brand-centered approach to marketing and sales.
Unlike a lead gen role of a few years ago, which focused on grabbing as many top-of-funnel contacts as possible, Gaetano says a growth marketer has "all areas of the funnel covered."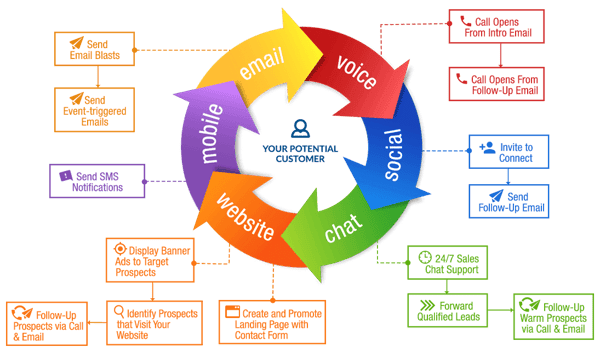 Source: Callbox
Where the lead gen of old might have been about capturing leads with a single display ad or piece of content, growth marketing is multi-touch. To reach prospects throughout the funnel, it involves strategies including content, social engagement, events and co-branding campaigns with trusted brands.
These initiatives help you stay top of mind with buyers organically.
Gaetano explains why this works better with the buying process than pure lead generation:
"Eventually there will be a pain, and I'll ignore it probably for some time until it becomes so much of a pain that I can no longer ignore it. And then the day has come, and I finally need something…I'm going to think of those brands that have done a good job of remaining top of mind, sharing helpful and educational content."
Through that ongoing engagement, he says, these brands will "have planted that seed of familiarity in my brain of who they are, what they do. They're a trusted, credible, reliable source."
Why You Should Embrace Inbound Marketing
People don't shop the way they used to — for anything, but especially for B2B products and services. They don't rely on your sales representatives for information, because they can search for it on their own time.
"The way people buy now is not conducive to the old school kind of lead gen model" of cold-calling or standalone ads, Gaetano says.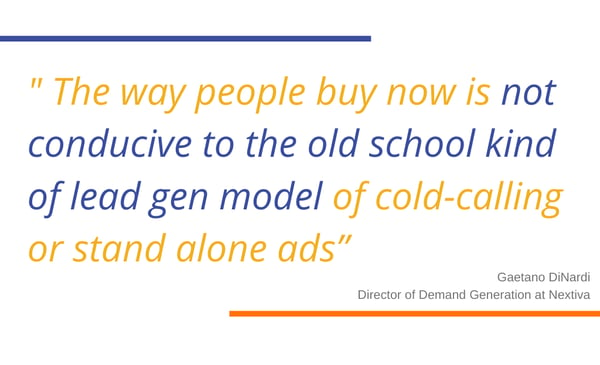 That's why he prefers inbound marketing to outbound cold calls and emails. "When you're doing cold outbound, no one knows about you. Even with the greatest templates on Earth, you're only going to get so much."
Instead, by creating useful and engaging content, you can attract leads through search and AdWords at the moment they're ready to learn more or buy from you.
"People are out there searching for what they want, and you're out there giving them what they're looking for during that moment of their need," Gaetano explains.
To execute this kind of marketing, you have to understand the big picture, know where the prospect is in the buying journey and what they're dealing with in that moment. That understanding sets you up to demonstrate your value proposition in a way that's actually meaningful to them.
"Get yourself into the mindset of the prospect as much as you can," Gaetano urges. "Otherwise, it's not gonna work."
Not All Growth Marketing Is Account-Based Marketing
Gaetano wants to be clear, though: Not all growth marketing is account-based marketing (ABM), which has kind of become a buzzword in the space to refer to hyper-personalized marketing that engages a specific team or prospect. That's not quite the same thing as just creating content to meet prospects where they are.
"The major misconception nowadays is that, if you're in demand generation, all you're doing is going all in on events and ABM and product marketing, which is actually not true," he says.
Gaetano points out that Nextiva has a short buying cycle — a few weeks or months, rather than a year-long process — so his team doesn't rely on buyer intent data and account-based marketing as much as some companies do.
If you have a similar sales cycle, account-based marketing might not be your best fit, despite the barrage of information you're probably getting about it.
How to Own Your Brand Online
Marketing today is all about your brand.
"The most important thing is building up your credibility and reputation," Gaetano says, "owning your reputation management across all your branded search terms and review websites."
That's because of the way buyers shop now. Before committing to your brand, they investigate it.
Prospective buyers who hear about your product or become familiar with your brand name are going to search for more information about it and read reviews before reaching out to you to buy.
Gaetano says that means owning those search terms. Create a presence on review sites — you don't necessarily have to pay for reviews. "Just to have a presence there is free, and just to be driving reviews there is also free," he notes.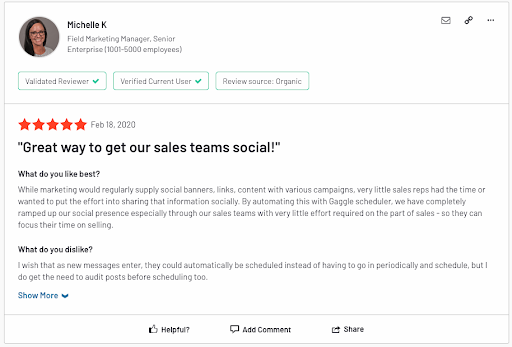 An example of an organic review on G2 for GaggleAMP's employee advocacy program.
That can also mean cultivating relationships with select partners for branded content or review content that will give you an additional presence in search and generate leads. The more you can own what people see when they search your brand name, the better you can cultivate your reputation.
Gaetano stresses, "You just need to be found everywhere where people are searching for your brand, specifically your brand search terms in Google."
Many thanks to Gaetano for appearing on the show. If you would like to connect with him, he can be found on LinkedIn.
AMP Up Your Digital Marketing brings together the leading marketing practitioners to share how they are succeeding in today's digital landscape. Each podcast episode focuses on providing you with the knowledge and strategies you need to be a successful marketer. Subscribe via Apple, FIR Podcast Network or wherever you get your podcasts. 
Want to appear on AMP Up Your Digital Marketing? Contact Us and let us know how our listeners can benefit from hearing your message.