Podcast: Play in new window | Download (Duration: 22:13 — 30.6MB) | Embed
Subscribe: Google Podcasts | Email | RSS
In this episode of AMP Up Your Digital Marketing, Glenn Gaudet speaks with Shahnoor Khan of KCS Technologies. They discuss the growing prevalence of data-driven marketing and how companies are using artificial intelligence to streamline and optimize campaigns. You'll learn:
AI marketing is simply a strategy that uses machine learning and data to automate, streamline and optimize your marketing efforts.
"[AI is] being looked at as one of the fancy technologies, but we are all moving in that direction," says Shahnoor Khan, VP Global Marketing for SaaS company KCS Technologies.
Embracing simple tools that use artificial intelligence and machine learning to facilitate data-driven marketing can help you utilize the unprecedented amount of customer data your company has access to online.
Your company has access to an unprecedented amount of customer data, collected through their online activity. How most companies use that data barely scratches the surface of what's possible.
Tools that use artificial intelligence (AI) to analyze that information can help you develop a data-driven marketing strategy by understanding who your customer is, what they want and how they'll engage with your marketing and sales content.
AI marketing sounds like a promise of the future, but it's already happening in most major companies. If you use Google or Facebook for digital marketing, you're using it every day.
Shahnoor Khan, VP Global Marketing at SaaS company KCS Technologies, joined the AMP Up Your Digital Marketing podcast to pull back the curtain on AI and help you see how you could use the technologies in your marketing and sales efforts.
What is AI Marketing?
AI marketing isn't a single tactic but, rather, it's putting artificial intelligence or machine learning technology to use to streamline and improve your marketing strategy.
Digital marketers were likely first exposed to the concept of machine learning — often used interchangeably with the umbrella term "artificial intelligence" — through Google's RankBrain. The system helps Google's algorithm select search results by learning what people are looking for when they search.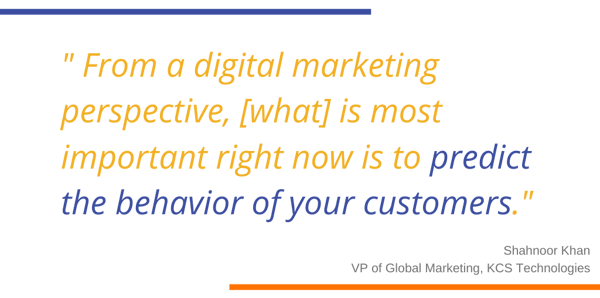 "From a digital marketing perspective," Shahnoor says, "[what] is most important right now is to predict the behavior of your customers."
For example, in Google Ads, Google's DoubleClick platform applies what it's learned to recommend a campaign strategy based on how it predicts your target audience will behave — i.e. what will get them to click and convert.
"Google is getting better and better at knowing what is best for the user," Shahnoor says. "That's precisely because it has [access to] the world's data, it knows everything."
How do Companies Use AI?
Most of us don't have access to the stores of data Google and Facebook have. But we can — and in many cases, already do — use AI in marketing.
"It's being looked at as one of the fancy technologies," Shahnoor says, "but we are all moving in that direction."
Chatbots are a familiar example of AI in business and marketing. Shahnoor says two out of three consumers use them, many without even knowing they are AI and not live customer service employees.
Voice assistants are another prominent example, used by 97 percent of mobile users, Shahnoor notes.
Netflix uses AI to make personalized recommendations to its audience. The Washington Post uses an AI writer called Heliograf for sports coverage. Starbucks lets users place and pay for orders through Alexa.
As these functions become familiar and mainstream, we often stop thinking of them as artificial intelligence, but that kind of data-driven marketing and predictive analysis is all AI.
When you think of it that way, how can you replicate these functions — personalization, automated content creation, voice assistance — for your business?
"You just need to identify who you are first and what is it that you want to do using AI," Shahnoor says.
AI for Repetitive Tasks
As the Post's Heliograf demonstrates, AI is a powerful tool for improving efficiency and expanding what you offer customers.
Whether it's personalized shopping recommendations through a customer service conversation or detailed coverage of the Olympics, AI can provide a level of service and production a human workforce can't, freeing your employees of redundant tasks.
AI might even provide a better customer experience. Shahnoor points out about chat bots, "They're friendly, and never lose patience because they're bots. Your customers can be angry, but the messenger bot will always treat your customers politely."
On the sales side, you could apply the same technology to interactions with prospects and report generation to reduce the human effort and repetitiveness of the job.
Tools to Help Your AI Marketing Efforts
Not sure where to start? Shahnoor recommends these AI tools many companies already use to exemplify existing capabilities:
AMP Up Your Digital Marketing brings together the leading marketing practitioners to share how they are succeeding in today's digital landscape. Each podcast episode focuses on providing you with the knowledge and strategies you need to be a successful marketer. Subscribe via Apple, FIR Podcast Network, or wherever you get your podcasts. 
Want to appear on AMP Up Your Digital Marketing? Contact Us and let us know how our listeners can benefit from hearing your message.