Podcast: Play in new window | Download (Duration: 19:10 — 26.4MB) | Embed
Subscribe: Google Podcasts | Email | RSS
In this episode of AMP Up Your Digital Marketing, Glenn Gaudet speaks with Dan Golden, president and co-founder of the digital marketing agency Be Found Online. They discuss the changing landscape of search marketing and what brands need to do now to keep up with coming changes. You'll learn:
Google recently announced it will block third-party cookies in the Chrome browser by 2021, which will force advertising back into contextual targeting.
Despite ongoing algorithm changes, best practices for optimizing for organic search haven't changed much since the outset.
Search marketing is becoming less about driving leads to your website and more about creating better customer experiences within search channels.
Search marketing has always been a fast-changing landscape, with marketers constantly attuned to Google's latest patents and algorithm adjustments.
One of those marketers is Dan Golden, president and co-founder of the digital marketing agency Be Found Online. Since 2009, Dan has kept his finger on the pulse of Google search, and he doesn't fear change the way some marketers do.
He acknowledges the major shockwaves Google sends through marketing and advertising agencies every time it announces a tweak to its algorithm or redesign of its consumer platforms.
Dan encourages marketers to embrace the changes.
"It is really easy to ignore some of these burgeoning trends," Dan said. "They're not going to make your quarter and they're not going to make you the kind of money you need this month, but…brands need to start investing in this stuff."
Dan joined the AMP Up Your Digital Marketing podcast to discuss the effects of Google's latest moves — the focus on expert content, the emergence of rich search results, and shift toward voice and visual search — and how marketers and brands can adjust.
How to Prepare for the 'Death of the Cookie'
This year, Google finally announced it will block third-party cookies in the Chrome browser within the next two years. Even though it's been long-anticipated, the announcement has some digital advertisers panicking.
Dan isn't panicking, but he knows there's work to be done. "I don't think this is going to be the death of digital marketing, but it is going to change things," he said.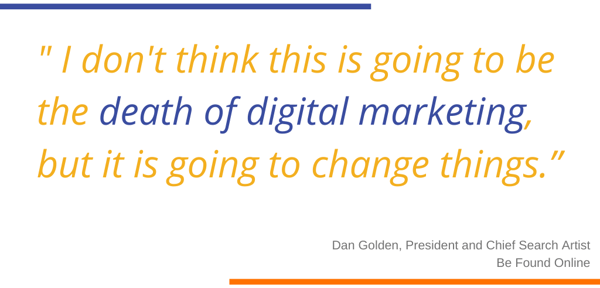 What the "death of the cookie" means, largely, is a return to contextual targeting — placing ads based on where people are — instead of the audience-based programmatic targeting we've become accustomed to. 
Brands can prepare for the change now by getting better at contextual targeting, Dan said. Think about how to find your audience based on related content or activity, rather than that direct data about who they are. First-party data will also be key. Create a registration option to build a direct connection with your customers (and their data).
Search Marketing SEO: It Hasn't Changed Much
For organic search, best practices aren't changing that much, even as the algorithm and platforms evolve.
"If you look back and read the patent for Google's algorithm, that hasn't changed," Dan said. "They've just gotten better at it."
SEO is still about writing good content, writing for humans and understanding your customer.
What's changing is how that content will reach the audience. With rich search results — featured snippets and other on-page content in SERPs — SEO is about how to nab a share of that Google search real estate, not how to get clicks.
That changes how we have to think as marketers. "As an agency, I've built my business on driving traffic to brands' websites," Dan said. "That's changing fundamentally … We can't measure things the same way, because the user experience is changing."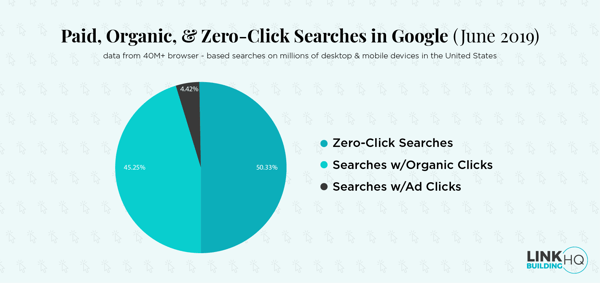 Source: LinkBuildingHQ
Overall, customer engagement with your brand within the platforms still has a positive effect, but you have to consider new metrics to measure ROI when user behavior is no longer about clicks and conversions.
Search as a Customer Experience Channel
As SEO becomes more about optimizing for voice assistants (like Alexa) and things like voice search and Google's SERP features, instead of driving traffic to your website, search is quickly becoming a customer experience channel rather than a marketing one.
This changes the way search marketers have to think about the channel. Creating a better experience for existing customers will be more important than getting leads.
Dan makes a very scary-sounding prediction: "I think websites are becoming less relevant and necessary."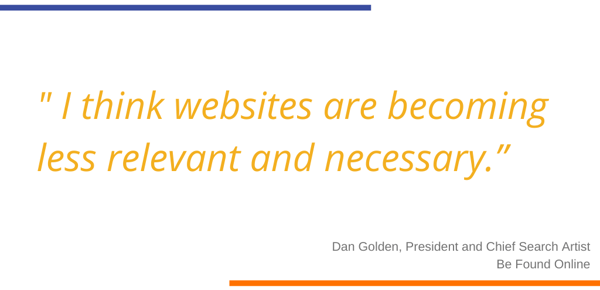 That doesn't mean your company shouldn't have a website, but it means your goal is less about driving traffic to it. Optimizing for this new kind of search is about automating actions for your audience — helping Google quickly answer questions about your brand or products or developing skills to help people shop without visiting your site, for example.
Don't get too focused on meeting goals this quarter and miss what's coming. Build testing for these new search experiences into your budget, because they're not going away.
Google and other assistants are making it easy to get set up. You don't usually have to build out your own technology anymore. Instead, connect your database to plug-and-play options to test your options.
"I think the winning agencies and marketing teams are going to be the ones that embrace automation but add the human element [of oversight and experimentation] to it," Dan said.
AMP Up Your Digital Marketing brings together the leading marketing practitioners to share how they are succeeding in today's digital landscape. Each podcast episode focuses on providing you with the knowledge and strategies you need to be a successful marketer. Subscribe via Apple, FIR Podcast Network, or wherever you get your podcasts. 
Want to appear on AMP Up Your Digital Marketing? Contact Us and let us know how our listeners can benefit from hearing your message.